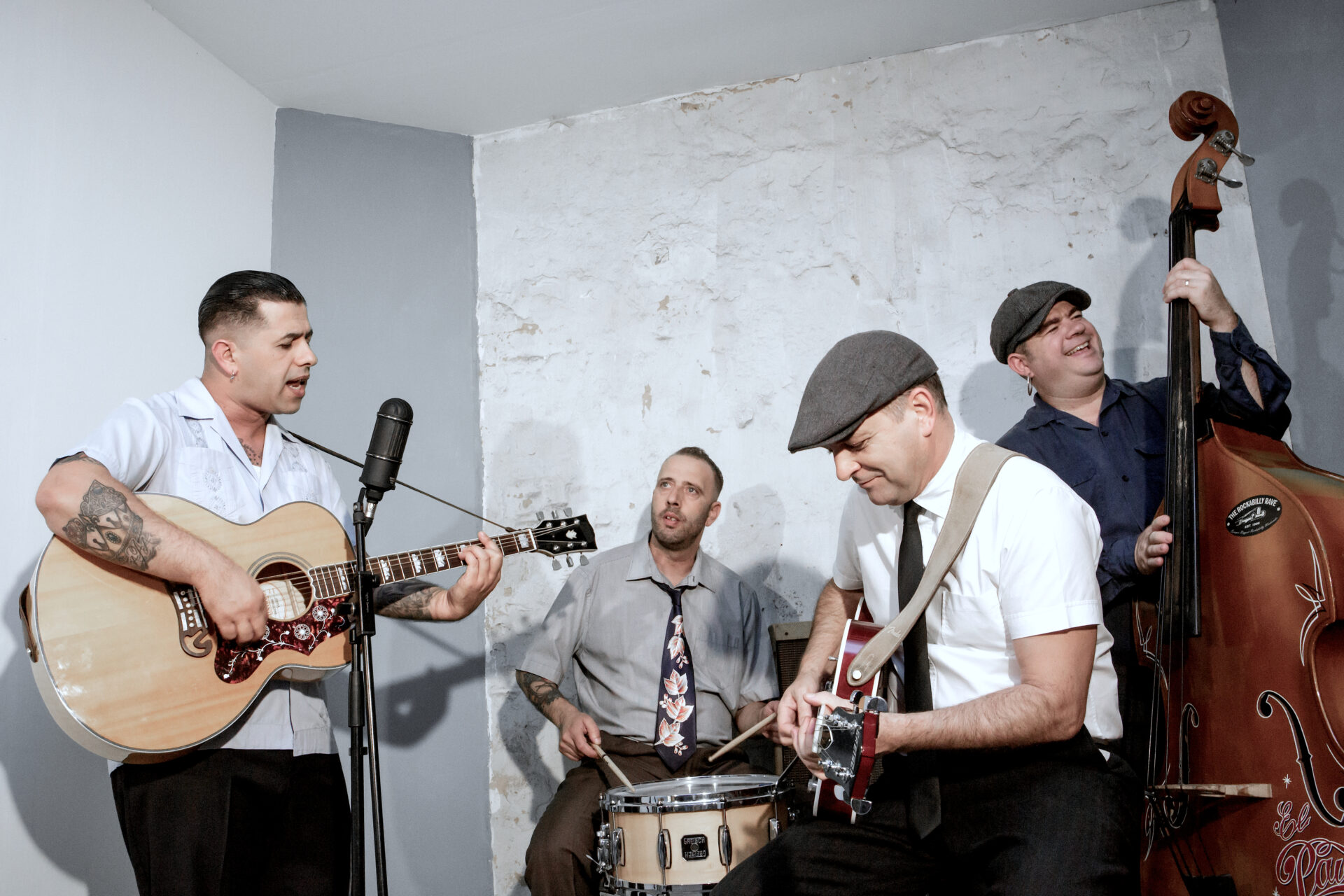 13 jun

A.J. & The Rockin' Trio repiten para el Blues At Moonlight 2019

It is hard to believe that 3 years have passed since that first jam session in the summer of 2014 at Aloha Café. The little snowball haven't stop growing, after the 6 track promo cassette, that arrived at Rhythm Bomb headquarters, soon A.J. & the Rockin' Trio were promoting their first CD at The 20th Rockabilly Rave with gigs scheduled outside their old country Portugal, in the far corner of Western Europe.
A.J. & the Rockin' Trio is a 4 piece classic Rockabilly combo that plays Authentic Rockabilly with their own mixture of influences like Rhythm & Blues, Country, Western Jazz and Early 60's Rock'n'Roll, and joins old Rockin' friends André Joaquim (Vocal / Acoustic Guitar), Celso Ladeira (Lead Guitar), Ruben "El Pavoni" (Upright Bass) and Rui "Tex" Gomes (Drums).
The new CD «Rockin' The Blues» started taking form immediately after the band landed from the Rave, A.J. wrote Rockabilly Fever from their boppin' time in U.K. and 9 more original songs, Celso Ladeira brought an old song from his repertoire that the band use to play live, and for the cover version appears «Have a Ball» from The Country Dudes.
For the recording A.J. & the Rockin' Trio gathered at the old rehearsal warehouse in the old Industrial part of Lisbon, put together some microphones, even made some overdubs, and the result is what your hear, if you listen close you can hear the machinery of the Auto Repair, and you can even listen the old train passing by, the same as the video clip of «Waiting For You» from the previous CD «Howlin' at the Moon».
Sharing the same passion for Rockabilly, some of the band's friends appear to play on the record. Nuno Lopes on the trombone, the childhood friend Piano virtuoso Jaime Oliveira, and two big names from the Rockin' scene, Pedro Serra from the legendary Tennessee Boys, Mean Devils and TT Syndicate to name a few, and thanks to the modern technology, the Rhythm Bomb Records recording artist Coral Lee Farrow recorded her beautiful voice in Australia on the other side of the world.
So grab a beer, put the volume loud and enjoy as much as A.J. & the Rockin' Trio enjoyed… Rockin' the Blues!.