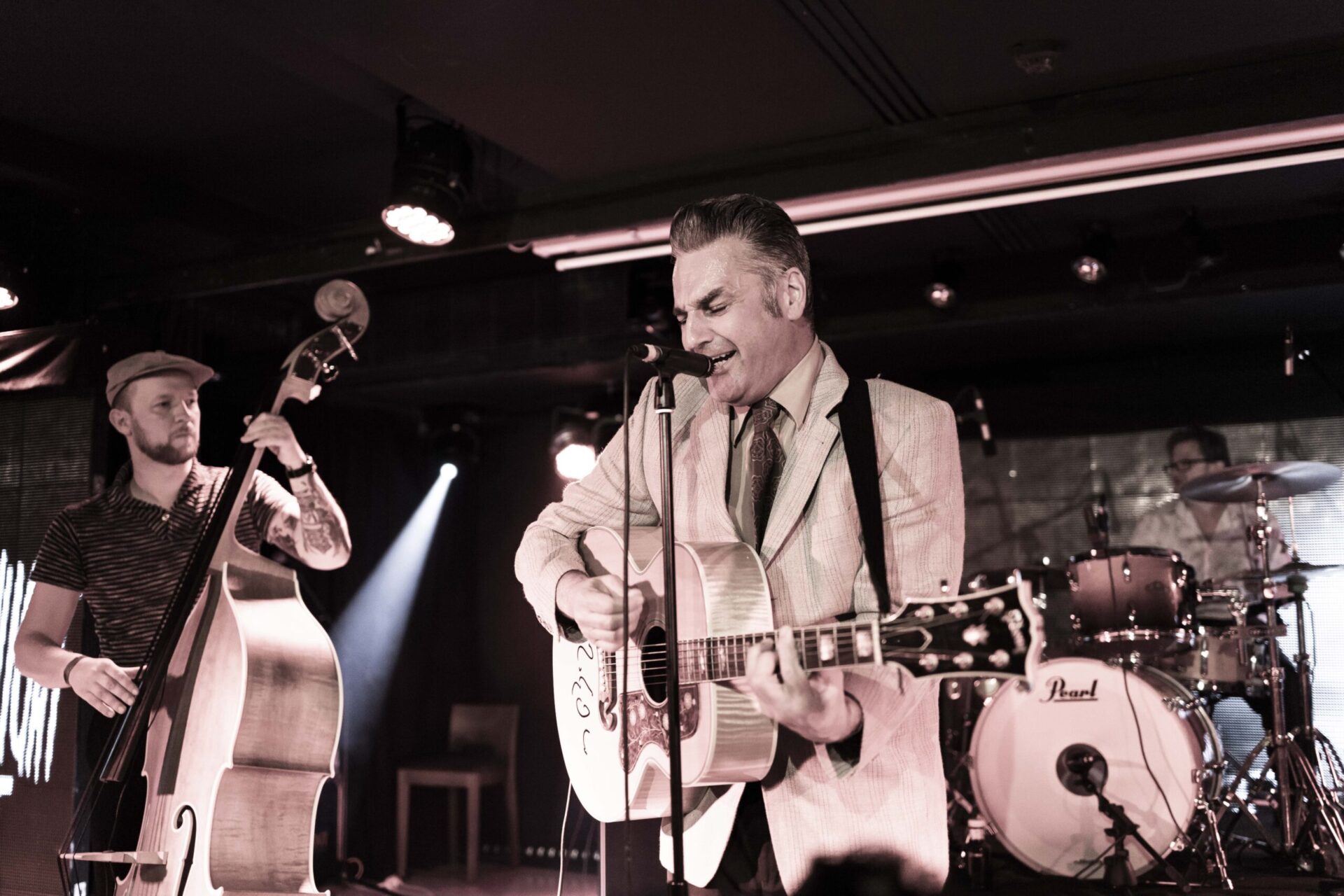 03 Jun

JAKE CALYPSO & HIS RED HOT FROM FRANCE AGAIN IN BLUES AT MOONLIGHT 2021

JAKE CALYPSO born in North of France in 1964 play Rock'n'Roll since the age of 13!

In the 80s he made his 1st album with the CORALS on the legendary label Mac Records in Belgium .

Later he released 2 albums with the band 'Mystery Train' on Rockhouse Records (NL) and Eagle Records (D).

When 'Mystery Train' ceased to exist in 1999, Hot Chickens, a new trio was born!

And after 6 albums and a compilation, this band still exists & plays. They celebrated their 20th Birthday in 2019 at Bethune Retro Festival with a loyal audience of 7000 people.

It is only in 2009 that the name of JAKE CALYPSO appears! When he decided on the sidelines of Hot Chickens to record single with a real 50's sound !

'My Baby Rocks' was the single & met a great success ! JAKE CALYPSO was born !

In almost 11 years, JAKE CALYSPO recorded 6 albums & many singles, EP.

Grandaddy Grease (1st album in 2010)

Father & Sons (2nd album in 2014) with the famous track 'Call Me Baby'

Downtown Memphis (3rd album in 2015) recorded in the legendary 'Sun Studio Memphis.

Vance Mississippi (4th album in 2016) more 'Blues' & 'Boogie' with Archie Lee Hooker (John Lee Hooker's nephew)

100 Miles (5th album in 2017) the album from his heart ! the album of his life ! Only Elvis ballads with his voice recorded in Memphis, Tupelo, Nashville & Bad Nauheim.

Backing by 'The Red Hot', Jake played in many many festivals with lot of energy & craziest shows everytime : Viva Las Vegas, Rockabilly Rave, High Rockabilly, Hangar Rockin' & more, more…

In 2017, Jake joined Ricky Lee Brawn & Helen Shadow for a new crazy project called The Nut Jumpers and they released our debut album on Rhythm Bomb Records.

Xmas 2018, Jake released his first hot compilation !

'One Take Jake', 25 songs, new mix for some, new master.

In 2019, the 6th Jake's album is released on Rock Paradise Records. 12 songs written by Jake. This one sounds more 60's. Many uptempo Love songs influenced by the music of Buddy Holly, Roy Orbison or Ricky Nelson. A touch of Rhythm & Blues, Exotic Songs & of course Rockabilly. This last album just simply call : My Foreign Love.

May 2019, Jake returned to United Stated & had the chance to play at the Nashville Boogie. A good opportunity to record in this town. With the Red Hot, he did 2 songs for the label Migraine Records in Germany. After the smooth album, he was back to a real Rockabilly Bopper : 'Who Knocks On My Door ?'

Like many musicians, Early 2020, Jake was stopped by the prolbem of the Covid-19. Concerts & festivals was cancelled. And some projects was postponed.

But he never stopped playing ! He has done something like 60 facebook lives and finally created his one man band project called 'Lonely Jake' around 14 recordings made in Missippissi in 2016.

The 1st CD of Lonely Jake is now available since October 2020.

Xmas 2020, Jake released his second hot compilation !

'Second Take Jake', 25 songs, new mix for some, new master.

The next step in 2021 when the music will back on stage, Jake would like to record a new authentic Rockalbilly album in the Shack with many songs already written since the 80's when his name was Teddy Best.

& Probably a new single for the Deejays ! With the songs :

'When The Pretty Girl Bop' & 'Torrid Love'

New mix more 50's, rough… 2 hot boppers !!

But Stay Tuned !