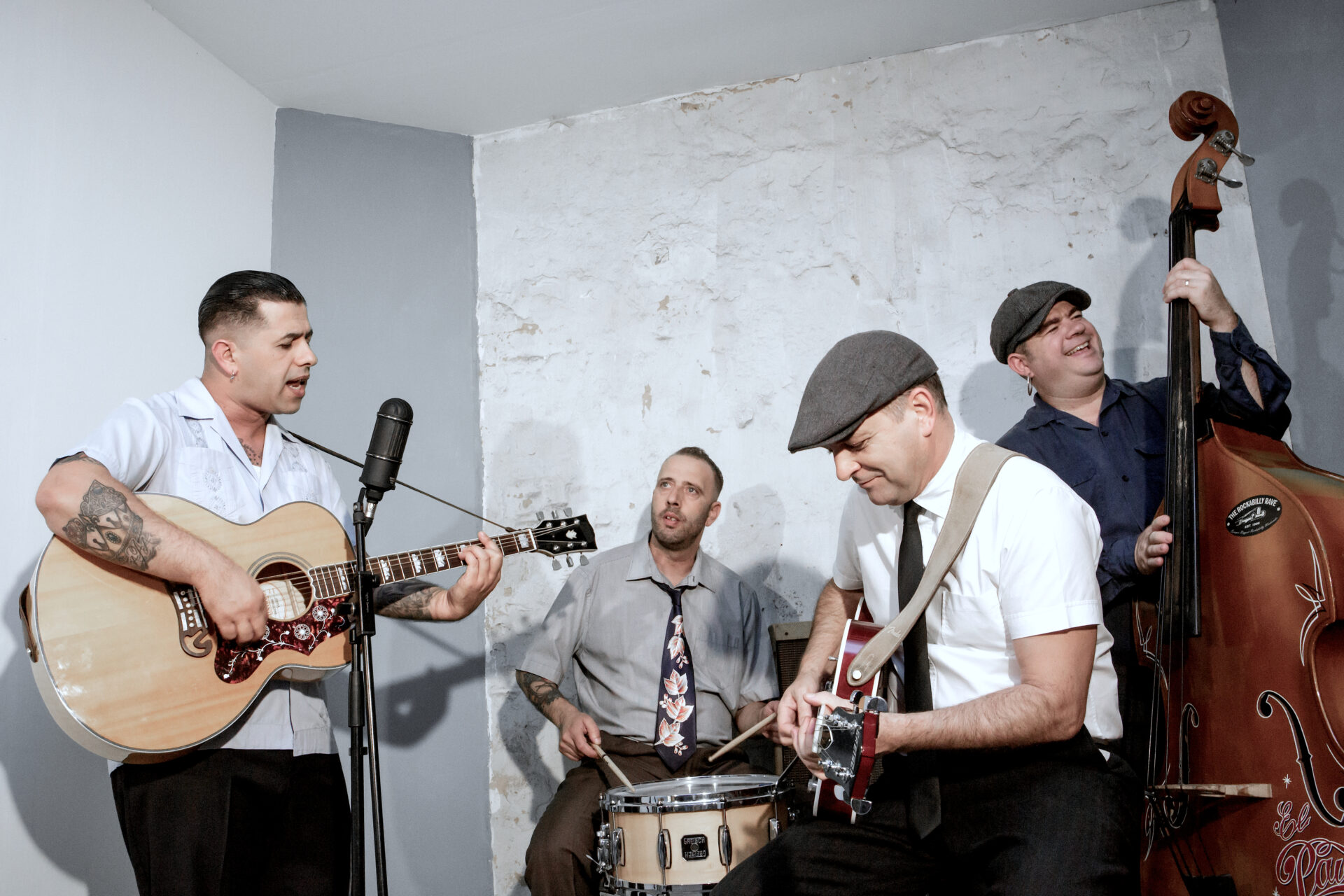 13 Jun

A.J. & The Rockin' Trio again in Blues At Moonlight 2019

Es difícil de creer que hayan pasado 3 años desde aquella primera jam session en el verano de 2014 en Aloha Café. La pequeña bola de nieve no ha parado de crecer, después del cassette promocional de 6 pistas, que llegó a las oficinas centrales de Rhythm Bomb, pronto A.J. y el Trío Rockin' estaban promocionando su primer CD en The 20th Rockabilly Rave con conciertos programados fuera de su viejo país, Portugal, en el rincón más lejano de Europa Occidental.
A.J. & the Rockin' Trio es un combo de 4 piezas clásico de Rockabilly que toca Authentic Rockabilly con su propia mezcla de influencias como Rhythm & Blues, Country, Western Jazz y Early 60's Rock'n'Roll, y se une a viejos amigos del Rock'n'Roll como André Joaquim (Guitarra Vocal / Acústica), Celso Ladeira (Guitarra Líder), Rubén "El Pavoni" (Contrabajo) y Rui "Tex" Gomes (Batería).
El nuevo CD "Rockin' The Blues" empezó a tomar forma inmediatamente después de que la banda llegara del Rave, A.J. escribió Rockabilly Fever de su época de boppin' en el Reino Unido y 9 canciones más originales, Celso Ladeira trajo una vieja canción de su repertorio que la banda usa para tocar en vivo, y para la versión de portada aparece "Have a Ball" de The Country Dudes.
Para la grabación A.J. y el Rockin' Trio se reunieron en el antiguo local de ensayo de la antigua zona industrial de Lisboa, montaron unos micrófonos, incluso hicieron overdubs, y el resultado es lo que se oye, si se escucha de cerca se oye la maquinaria del Auto Repair, e incluso se puede escuchar el viejo tren que pasa por allí, al igual que el video clip de "Waiting For You" del anterior CD "Howlin' at the Moon".
Compartiendo la misma pasión por el Rockabilly, algunos de los amigos de la banda parecen tocar en el disco. Nuno Lopes en el trombón, el amigo de la infancia, el virtuoso del piano Jaime Oliveira, y dos grandes nombres de la escena del rock, Pedro Serra del legendario Tennessee Boys, Mean Devils y TT Syndicate por nombrar algunos, y gracias a la moderna tecnología, la artista de grabación de Rhythm Bomb Records, Coral Lee Farrow, grabó su hermosa voz en Australia, al otro lado del mundo.
Así que toma una cerveza, pon el volumen alto y disfruta tanto como A.J. y el Rockin' Trio disfrutaron…. Rockin' the Blues!.